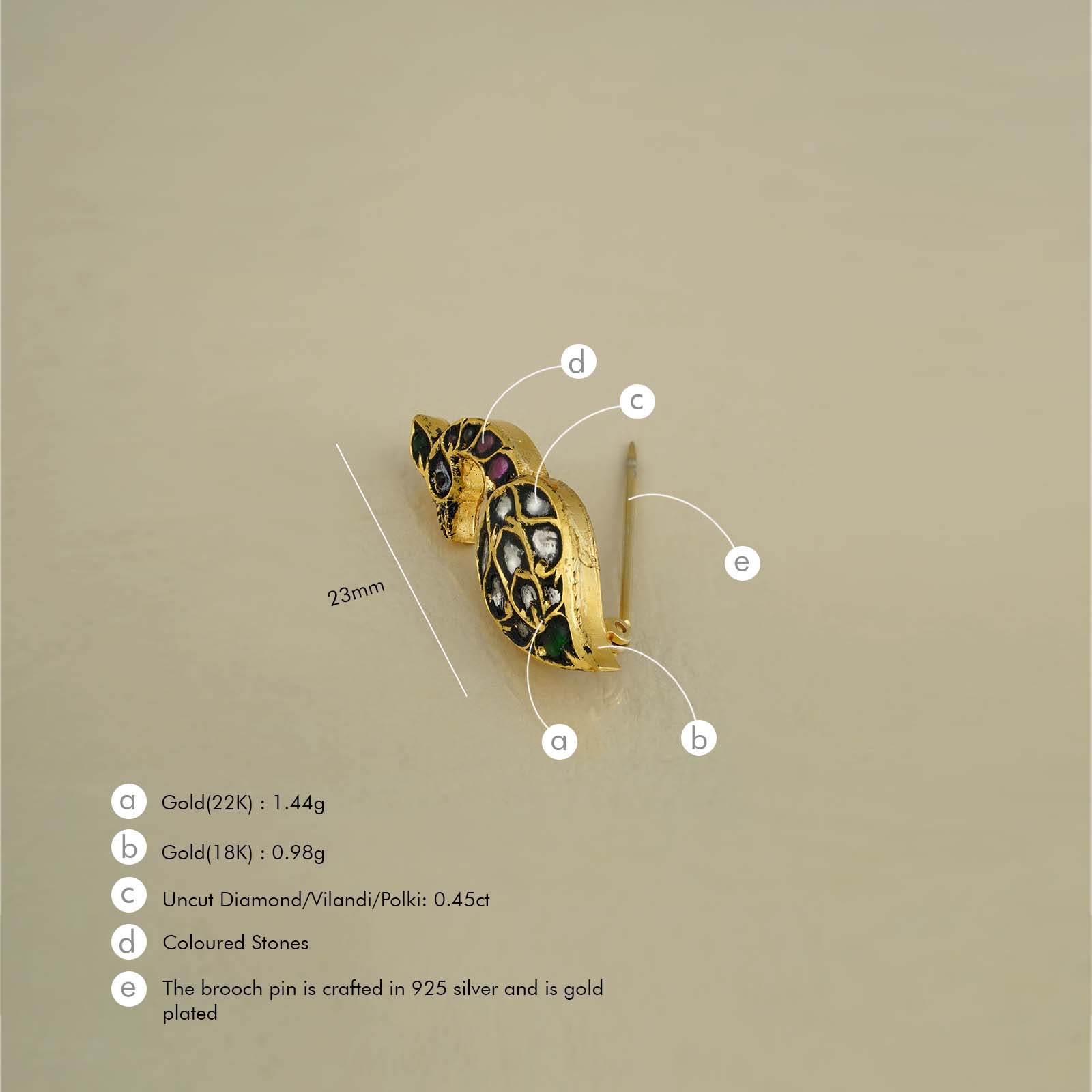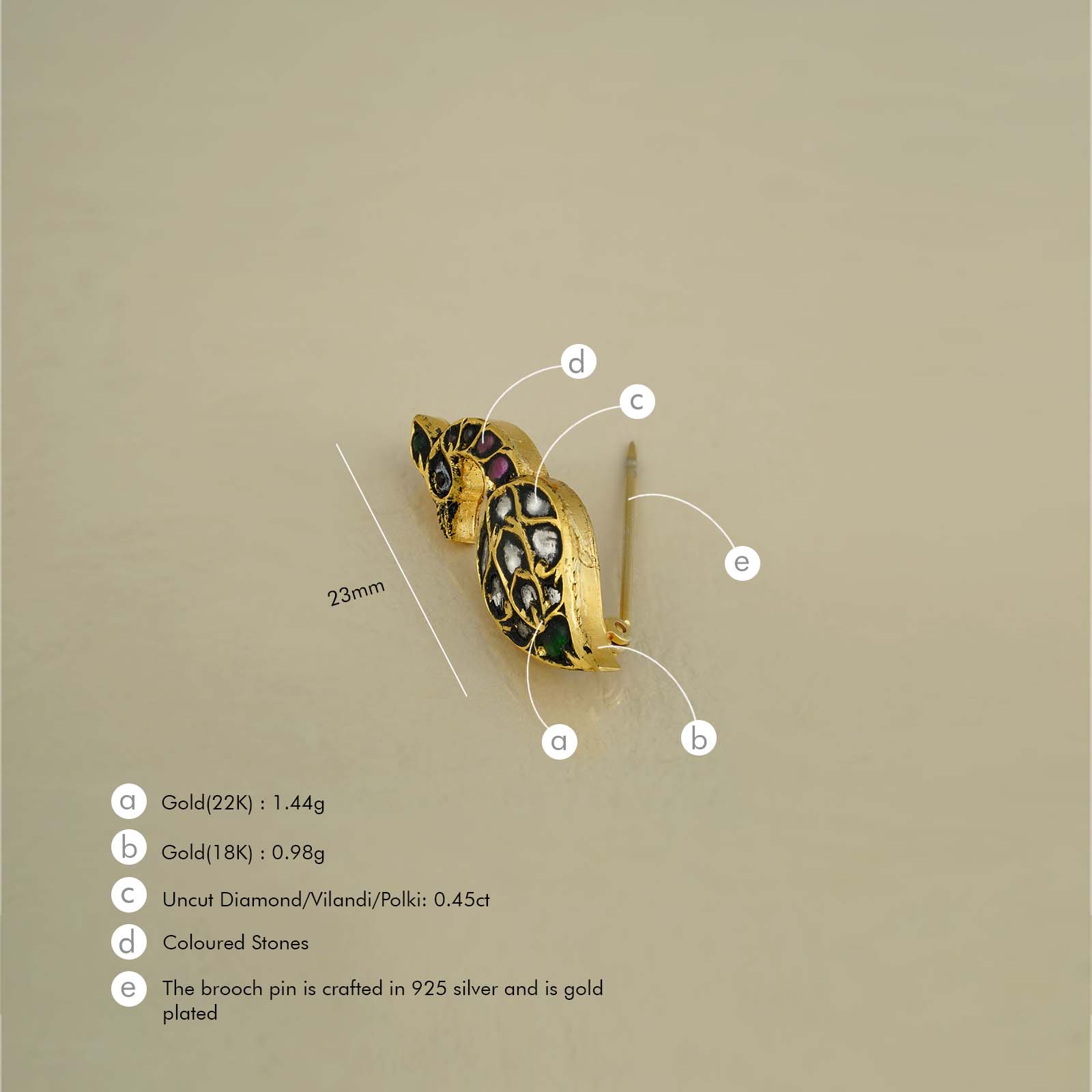 22K and 18K Gold
Juno Brooch
Inclusive of 3% GST
The handcrafted Juno peacock brooch is as vibrant as it looks. Worked in gold and encrusted with uncut diamonds (polki), the brooch features little specks of gold for a modern Indian luxurious touch. Whether to fasten your collar or pin up your scarf, you can use it anywhere you like, however you like!
Have questions? Talk to our personal stylist!
Schedule a Call
Cash on Delivery (COD) available at checkout *T&C apply
Description and Details
Gold(22K) : 1.44g
Gold(18K) : 0.98g
Uncut Diamond/Vilandi/Polki: 0.45ct
Gemstones : Coloured Stones
925 Silver
The brooch pin is crafted in 925 silver and is gold plated
transparency in
materials
working with 200
artisan families
85% plastic free
handmade packaging
ethical vendor
ecosystem
doorstep delivery
insured shipping
note from the designer
A melange of classic Indian motifs, gemstones and craftsmanship, "Khoob", brings forth our love for colors. The collection of ornate statement designs, brings together in harmony, multiple traditional Indian techniques like Kundan setting, Meenakari (enamelling) and stone inlay.
Puja
handcrafted with love
India, the land of heritage, culture and craftsmanship has been a perennial model of inspiration for the world. The India of Moi recognises art, flamboyance, the luxury of materials, and layered storytelling while placing it firmly in the NOW. With each piece, we attempt to bring through the legacy of Indian craftsmanship and skilled artistry, simplified to be worn as a reminder of all things beautiful, in our day-to-day lifestyle. All our designs are handcrafted, they spend anywhere between 12 to 20 days at multiple workshops, are nurtured with a mix-big of old and new techniques, a spark of colors, different metal finishes, to bring together in harmony, something to cherish.
reviews
we love to hear from you. it keeps us going
Krutika Moorjani
Mumbai, India
"Moi ticks all my requirements of what fine jewelry should be! I will be wearing my first collectable of Moi soon for a family wedding. I am so very in love with it ❤️"
Mugdha Purohit
Pune, India
"Thank you team Moi for delivering this beautiful piece absolutely on time. I was delighted to receive this piece so that I could gift it to my daughter and she loved it! So so happy.. Thanks again. The process was flawless 😍"
Shraddha Kapoor
Mumbai, India
"Love your unique jewellery! I was searching online for one of a kind jewellery and came across your website. If I may say that I was holding myself back from going completely ballistic and purchasing more pieces because they are just so stunning and truly one of a kind."
Suhrita Majumdar
Kolkata, India
"This is the first time I have picked up a jewellery online. What attracted me the most was the fact that it's 'handcrafted'. Must say that your pieces are indeed traditional yet contemporary. 🙂🙂 I would definitely return to pick up some other piece soon. Keep creating! Good wishes."